Dubai, UAE, June 9, 2016: They say that anyone can pick up a camera and start taking beautiful photographs as long as the camera that they use is of utmost quality type. I disagree. If you are naturally born gifted with a third eye like Mohsin Abrar, regardless what camera is at hand – a photograph might be as well taken from the Creator Himself. Photos that not only depicts the beauty of this world – but also life's lessons.
Did you study photography?
No. I self-taught. I started photography only three years in Dubai.
What do you mean three years?
I just picked up my first camera three years ago without knowing anything about photography. I just learned it through online and Googled my way. Of course, friends were also there who are into this profession.
I never had formal training or attended workshops.
What was your first camera?
A Canon 1000D. They have stopped producing that now.
How many cameras do you have?
I have a Canon Mark 3 and the old one, the Canon 1000D, and now a Nikon D810 A total of three pro cameras.
What do you exactly. Like what is your job of present?
I do Marketing for a dairy company. When I moved into Dubai with a marketing role, I fancied carrying a camera with big and long lens. In truth, I just wanted to have one without knowing how that equipment works.
What was the main interest in taking still photos?
Landscapes. Capture the beauty of nature.
Did you have an exhibition already? Or a photo show?
Yes. I am very fortunate to have three exhibition to date. One was at Knowledge Village with Huawei that sponsored me. This was 70% pro camera and 30% using the mobile phone.
The other one was the India Center in Al Ain. This exhibition was all pro camera.
Currently, one is on going in Gulf Photo Plus (GPP) with one of my images displayed till the 12th February.
What photo launched you to be where you are today?
This photo. It is called The Power of Prayers. Though this was street photography, the picture caught so many stories. This was taken in Istanbul that made it to the pages of Gulf News.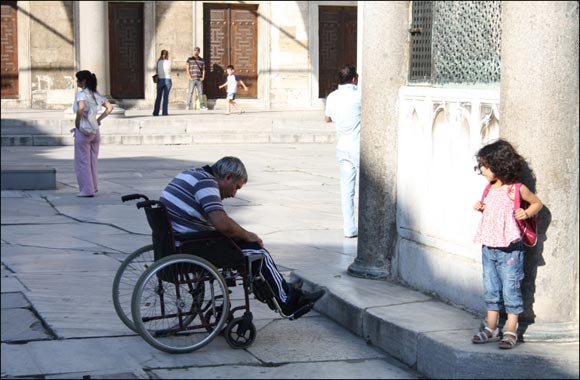 This picture really inspired me. Amidst the flow of people moving all around the mosque, this disabled man in his wheelchair showed real connection in his silent prayers to Almighty God. He was unperturbed. What really caught my attention to capture this moment was the little girl, also almost in awe with the man in prayer in his wheelchair. She was drawn to his sincere prayers and that's what made the photo stark. It was really moving.
It was because of this particular photo, it has inspired me to capture more photographs that speaks beyond what it represents. Since then, I haven't slowed down.
I have 75 photos that Gulf News already published in their daily.
What's the future of Mohsin Abrar?
I am launching my official website today, and my Instagram account (mohsinabrarphotography) today.
What makes this different from all other photography websites?
This website is exactly what I have visioned myself doing in the coming years. It is with a cause. It will be supporting what is inherent in what I believe is relevant to focus on, It is about the Girl Child of India.
I am from India.
India is a very beautiful country and like any other countries, it also faces many contradictions. There are things that can be improved to make it more beautiful.
The Girl Child of India (those of the lower middle class and socio economic class D) currently is really not empowered. She feels very helpless at some point, many are. I am talking about those who are less privileged and victims of the low disposable finances that is happening which in all account, The Girl Child of India is now suffering without her doing. She loses self-worth and it takes a toll on her education. Her character as a person becomes unbalanced and she has to face hardships even at an early age. Education, even to a deserving child, if not properly supported is just but a dream.
How do you plan to achieve this cause?
What I want my photography website to achieve is to help The Girl Child of India. If God is willing, I am really very passionate to run this cause by not attaching to any NGO's but on my own account to help educating a child and empower her to study. I will scout through my circle. I'll start from there. It may be anyone who believes in the cause as me. It maybe you, my friends, my relatives, anyone.
Whatever comes out from my passion from photography, I visioned it to be the vehicle for A Girl Child of India to pursue her education. Everyone knows that when you educate a child, her future is already determined. And that is to make the world peaceful and better.
This really is a very moving cause. I wish you luck and the best there is to be. What is in your plate right now?
I have been signed by the Singapore Tourism Council as their official photographer for 2016.
Let's talk about phone photography.
Yes that. It has increased interest with the onset of powerful cameras that are on our mobiles. If my third eye captures something that is worth taking without my pro camera, a mobile phone comes handy.
One photograph from you was featured on National Geographic, taken from a Huawei Honor 7 mobile phone. Tell us about it.
That photo wasn't actually 'accidental'. I was in one of my frequent work trips to Netherlands and I came across this stack of bicycles with which I really want to shoot. I went behind the Central Railway Station to angle my interest and the accidental part was the presence of the woman that just came out from this stack of bicycles. What made it very interesting was the woman, who embodies femininity – she gave contrast to all that was steel and metal that was all around her and that was what caught my fancy, which National Geographic caught too.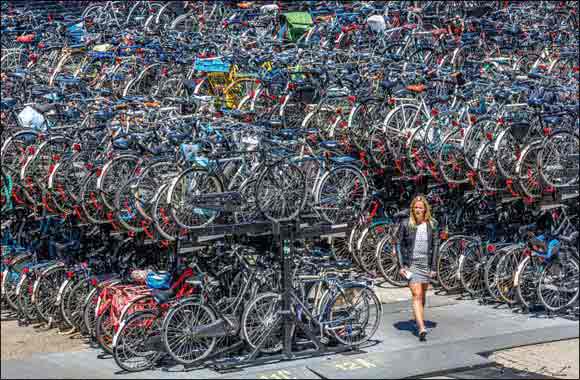 Amazing. What else did National Geo featured from you?
A photo that National Geographic featured was one that I took and named Land and Sea. It was seen in three continents aside from National Geo Abu Dhabi, it was also featured in National Geo in US, Asia and Europe.
Another photo I took, The Yetis of Nepal also made it to Yahoo News, Business Insider and all across five continents. It was also the editors' choice for National Geographic. This photo appealed to many readers as it was very colorful.
It's very inspiring.
That's the whole plan, to keep inspiring through my photographs. I hope that it will ripple my thought to my cause for The Girl Child of India.
What legacy do you want to be remembered?
That I am a photographer with a purpose. Through my initiative from the website, it would be nice to be remembered as the photographer who empowered The Girl Child of India. That is my cause.
What made you so passionate with your cause The Girl Child of India?
When I was a child I use to see from a distant this women come and work in the neighbourhood. One day just before EID, I saw her bruised, black and blue if you may say. She was with her young child in tow, probably age 12 or below.
When I asked the child what happened to her mother she told that her father broke her mothers hand by hitting her as she was unable to get money from her place of work for his alcohol addiction. That came from the lips of a 12 year old or less.
What I really saw in front of my eyes that moment was not the broken hand of the mother but also the broken fate of the child. She could have been in school as education is a right of every child. Instead, I see a pattern from society that this very child will end up just like her mother. Uneducated and with low morals.
I kept thinking that have they also gone to school like me, then this situation would not have risen. They would have been empowered to do something on their own rather than go through this torture.
I may not be able to help everyone, but I will try with one. It takes only one step to what may follow. How much and how many I can help educate, I cannot say. But I'll start with one girl child.
Instagram: mohsinabrarphotography
Contact Address: Mohsin Abrar, Oud Mehta, Dubai
Mobile Number: +971-52-8687786
by Cristina Magallon
Tweet @UAEDNAofficial
source: www.uaedna.com
| | |
| --- | --- |
| | Previous Story : Who deserves to win the title of Best Content Creator of Sad... |